A technique that can be used to "rebuild" and stabilize sections of lake shore bank that are eroding rapidly due to wave-action is the construction and back-filling of Branch Box Breakwaters. Here the breakwater acts as a biodegradable wall holding a fertile, organic-rich (e.g., compost) soil mix in place while plants establish. Plant growth is robust in this material and a very dense network of roots is rapidly formed.
The rational is these roots will stabilize and hold the bank in place as the breakwater structure gradually breaks down. The breakwaters constructed in front of near vertical sections of wave-cut bank in 2012 and 2013 were back-filled in this manner. Below is a description of the process.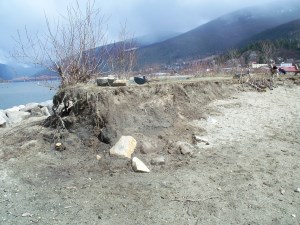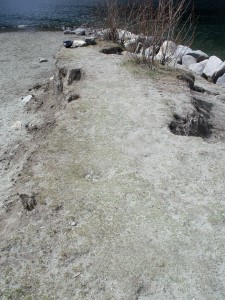 Above left: Area where 2012 Breakwater was constructed at the end of the peninsula (April 2012). Above right: Top view of the same area.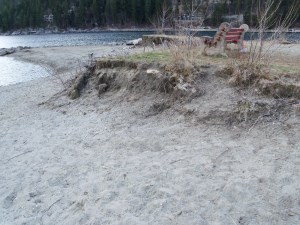 Left: Area where 2013 Breakwater was constructed (April 2012).
The first step is construct a breakwater structure in front of the bank (see Constructing Branch Box Breakwaters). Except for the wire mesh placed in front to prevent beaver from damaging the breakwater, the structure is 100% biodegradable.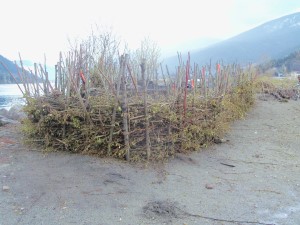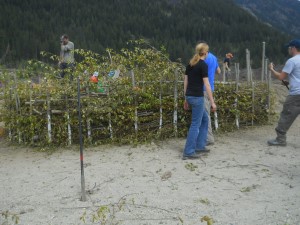 2012 (above left) and 2013 (above right) breakwaters immediately after construction.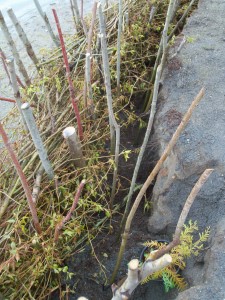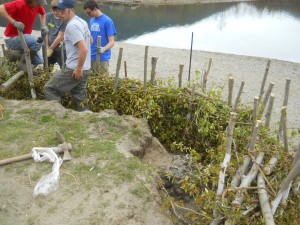 Gap between 2012 (left) and 2013 breakwaters (above) and the bank. These could have been constructed further from the bank if more fill was available
*********************************************************************************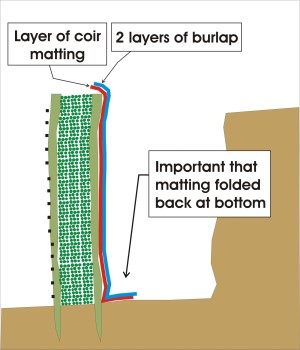 Next the inside of the breakwater is lined with biodegradable matting. Coir matting (placed against the breakwater) is great as although it is biodegradable, it breaks down very slowly. Most coir matting has a fairly coarse weave, therefore two (recommended) layers of burlap should be placed over this to prevent fine soil particles from washing through.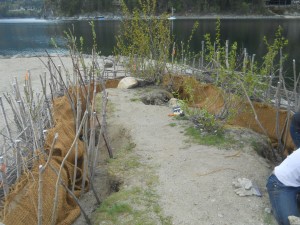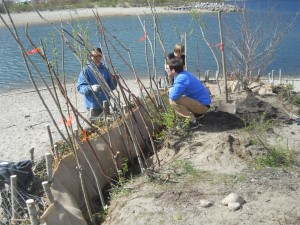 Above left: 2012 breakwater lined with coir 700 matting (burlap still to be placed).     Above right: 2013 breakwater with coir and burlap lining. Some live/rooted cuttings have already been placed behind each of these (see below).
*********************************************************************************
The live cuttings (and/or rooted cuttings) should be placed before back-filling the structure (below right). Recommend back-filling with an organic-rich compost-like material to achieve rapid establishment and growth. Mix in some forest humus material to add mycorrhizae and other components of a soil microbial community. Some cuttings can be placed through the wall of the structure as well.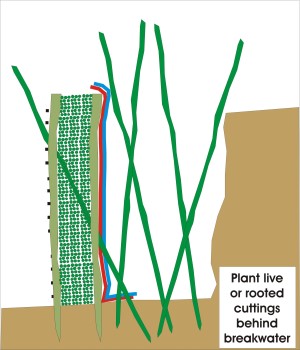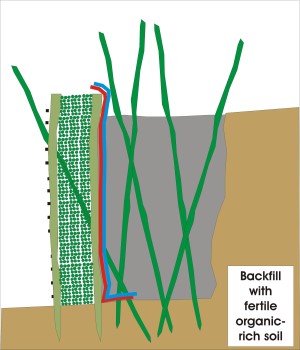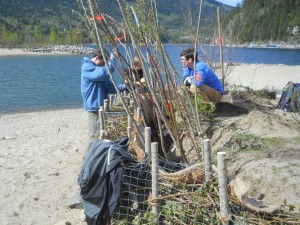 Left: Live and rooted cutting seen placed behind 2013 breakwater before back-filling. Note wire mesh in front.
.
.
.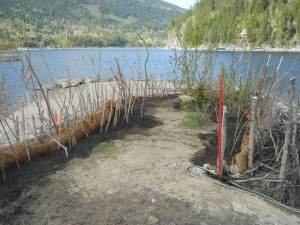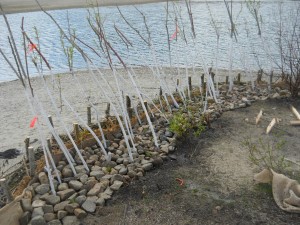 Above left: 2012 breakwater after backfilling with compost material (small stones later placed on this). Above right: 2013 breakwater after backfilling and placement of small stones to help hold the compost material in place during high water (optional).
*********************************************************************************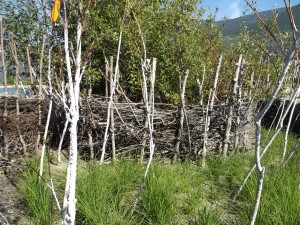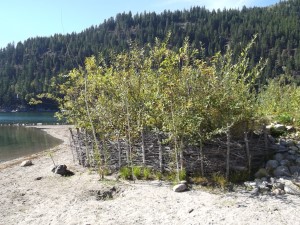 Above left: Growth behind 2012 breakwater as of Sept. 2015 (sedges inside 2015 breakwater seen in foreground). Above left: Growth behind 2013 breakwater as of Sept. 2015.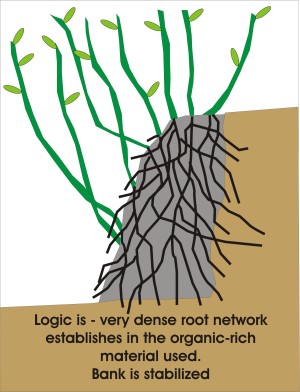 Dense root growth is expected to hold the bank together after the breakwater structure breaks down.