On April 20, 2013, a small area of Kootenay Lake shoreline was converted from a cover of invasive weeds (mainly Common Tansy and Canarygrass), to a cover of native riparian willow and red-osier dogwood. These native shrubs where grown from live cuttings collected around or near Kootenay Lake, and should form the natural shoreline vegetation in this area.
This project was headed by the Central Kootenay Invasive Plant Committee (CKIPC), in partnership with Friends of Kootenay Lake (FKL) – and used TRS Cuttings produced by Treebear Native Plants. This was a community planting event involved  the work of over 50 members of the public (with lots of children participating) as well as students from Selkirk College.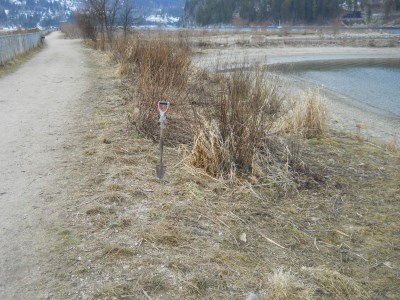 This is the site in February 2013. Clumps of dead Common Tansy and Canarygrass are seen.
This site was completely dominated  by these weeds during the growing season.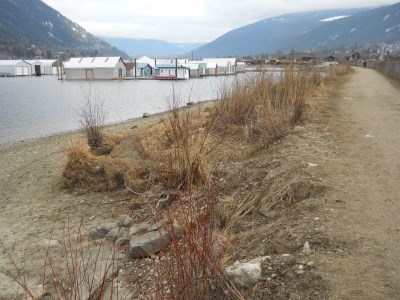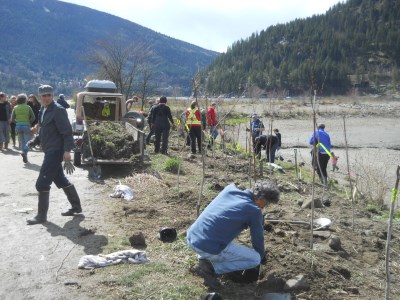 Volunteer turnout for this planting event was great (April 20, 2013).
The well developed root system on these cuttings allowed for manual planting – i.e., a planting hole about a foot deep was sufficient.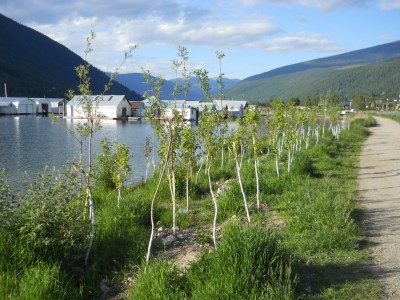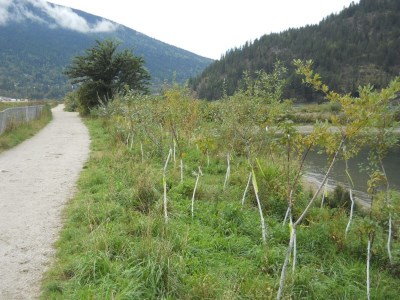 June 2013.
Note the white paint / sand beaver repellent painted on the stems (see Preventing Animal Damage).
September 2013.
Of the 70 TRS Cuttings planted here all but one survived and established well.
I did water the site several times during the 2013 growing season, pumping water from Kootenay Lake.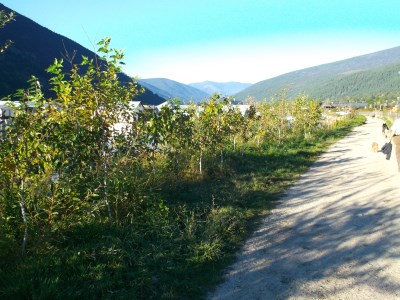 September 2014.
The plants were not watered at all in 2014, and the weeds were cut back only once in the spring. Survival is about 95%.