Proper storage of live cuttings is important to preserve the vitality of the material and ensure good survival after planting. It must be remembered that live cuttings are living plant material.
Short-Term Storage
For short-term storage before pre-soaking and planting (e.g., one or two weeks), live cuttings should be kept cool and moist, and in a shaded location. This has been explained in more detail under Stock Handling on the Harvesting Live Cuttings page.
For storage longer than perhaps two weeks (this does depend on temperatures), some form of cold-storage is necessary.
Cold Storage
Storage On Snow 
One of the best ways to store dormant-season harvested live cuttings for several weeks and up to several months (e.g., over the winter) is on / under snow. Storage into the spring using this method is of course limited by warming temperatures. The period can be extended into late May or early June (in southern B.C.) at a higher elevation, however this may involve large transport costs and the labor needed to dig material out of deep snow can also be large. There may also be a risk of theft or vandalism in remote locations.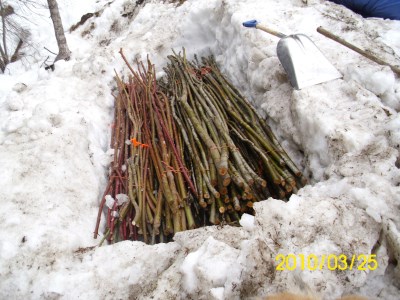 Live cuttings placed into pit dug into snow bank for storage. A front-end loader can be used to dig larger snow pits. More snow should be thrown on top and then the cache should be covered with a Silvacool tarp.
Material collected in the fall can be stored over the winter this way.
To extend the storage of live cuttings on snow at lower elevation it is also possible to cover the cache with an insulating layer, and/or place it within an insulated enclosure.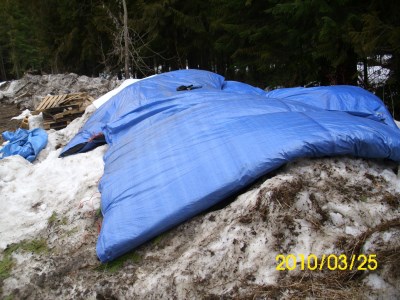 Specially fabricated insulated tarps used to cover live cuttings cached in snow. These tarps allowed storage of material here for about a month longer than without such insulation. This was also covered with a Silvacool tarp.
Contact us if you want to know how these insulated tarps were made.
Refrigerated Cold Storage
Live cuttings can be kept in refrigerated cold storage for up to six months. The material should be moistened and wrapped/bagged in plastic before placement into cold storage to reduce desiccation (moistened peat moss can also placed inside the plastic wrapping). According to the US Dept. of Agriculture (see ref. 1 below), the correct storage temperature is between -4.5°C and 0°C (at the colder end of this range for storage longer than 60-90 days). Most forest seedling nurseries have facilities for this.
References
(1) US Dept. of Agriculture Technical Notes, Plant Materials-29